Welcome to "Writing in the Workplace." This biweekly series will focus on how professionals-in any field of work- use writing. If there are industries you'd like us to spotlight or you're interested in being featured, we're only a tweet away!
---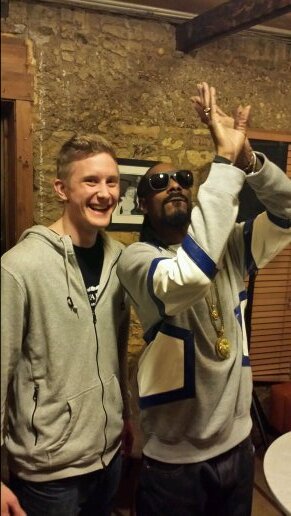 Alex Stoyle is a Business Development Coordinator (professional friend/Tweeter) at GYK Antler. He graduated from Brandeis University, where he studied business and played basketball. 
What mediums do you rely on for your writing?
My place to write is in my idea book: that's where I jot down my myriad (sometimes) brilliant thoughts, observations, and notes. Sometimes these are very pertinent to my work- part of my job is to come up with creative ways to build and maintain client relationships; other times, the ideas I jot down are for creative, non-work related projects. The front sides of pages are "work," and the back sides, "personal." Outside of that, I'm constantly emailing, texting or tweeting (@realstoyle) from my phone or scribbling in a notebook. I also write proposals, but those are much less fun to talk about.
Describe your writing process.
My writing process has evolved quite a bit since, well, last month! I never figured it out in college: I would just write what I had to, as quickly as possible, on my laptop. The way I wrote and edited was backwards. I would end up with a bunch of solid ideas realized as scattered fragments. I was never able to play with or develop them to a point where I felt proud, instead of merely relieved to be passing in a paper. Now, when I'm writing for work or for fun, I take a lot more notes. I work with my ideas by hand, in my idea book. Writing with a nice pen has become therapeutic and a great way to figure out what I really want to say. It's kind of like with sculpting (Note: Alex is something of a metal sculptor):  I like to throw together a sketch before actually getting my hands dirty. Once I have a better idea of what I want to say, I I hit the keyboard. In short: I write, I think, I type. This process (having a process at all, really) has been central in developing my mind to think about work, when I'm not at work, in fun, interesting, creative ways.
What kind of feedback do you seek out for your writing?
When I'm writing proposals at work, it's usually my boss just moving some stuff around and telling me what I should change. At this point the writing I'm doing at work is much more standardized and templatized and he's a pro when it comes to proposal writing/language. I'm working on personal project on the side, too, though I'm not sure if it'll be a book or a blog or whatever. The feedback I'm looking for there is mostly from my close friends, and hopefully someday, I'll be getting feedback in a more public forum.
What was your most challenging writing experience?
This paper I had to write in college on the Canadian Broadcast System. 15 pages, and I started the night before. I ended up actually learning a lot and liking the topic, but I didn't have enough time to polish my ideas and ended up with a pretty sub-par paper. This experience actually instigated my change in writing philosophy. As far as work goes, the challenge is less intellectual and more creative. I'm constantly considering the many ways GYK Antler can improve its social media presence; this makes things like tweeting for work less stream of conscious, as the 140 character limit forces premeditation and some research. 
What was your most meaningful writing experience?
 I've had a few cool tweets (see page 58 of A World Gone Social by Ted Coine #shameless). But right now, I'm most excited about the personal project I'm working on. It's perfect timing for me to answer these questions because I've never enjoyed writing as much as I have with this project. I guess it seems a little more meaningful because I never thought about myself as a "writer" until I started writing (haha).
What's your favorite way to procrastinate?
I'm a seasoned vet when it comes to procrastination. I've done it all, from hitting the bar to cleaning my house. My preferred method, however, is probably food. I'll usually eat to procrastinate: how healthy of me.
Do you listen to music while writing?  What kind?
I'll end up listening to all kinds of stuff. Sometimes classical.  I don't know anything about it but I swear it makes you smarter.
Most important book you've read?
So far, I'd have to go with Ishmael by Daniel Quinn. One of my teachers in high school made me read it and it totally changed the way I think. I also loved Tuesdays with Morrie.